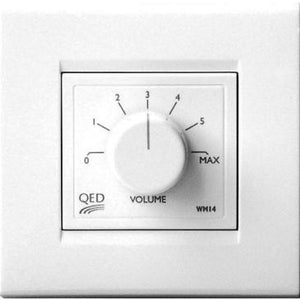 Each module is supplied fitted with a UK standard (86mm x 86mm) single gang white fascia and mounting frame. 
44mm back boxes are needed for this product. Never fit any module into the same back box as a mains powered device.
The QED WM14 is a seven step in-wall volume control with electronic protection; from 'fully off' to 'maximum volume'. Designed to suit speaker cable and working at amplified level, ie to be positioned after the amplifier, the WM14 has screw terminal connections for easily connecting speaker cable. It can accept cable up to 2.5 sq mm cross sectional area and handle 30 Watts per channel.
for QED WM14 Wall plate with volume control

for: QED WM14 Wall plate with volume control
---