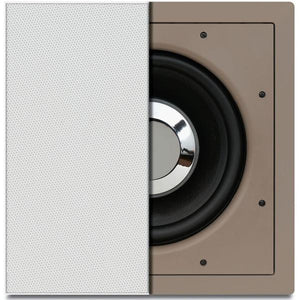 This in-wall subwoofer has been returned due to the customer changing their mind. The box has been opened and shows the rigours of an additional courier journey, but the product is unused and sold as fully new with a full UK warranty.


The IWS105 adds powerful bass to in-wall systems without taking up a single square inch of floor space. By putting the neodymium magnet inside the speaker cone, we slimmed the woofer so the IWS105 fits flush in a wall. It sounds like a conventional sub, but it's practically invisible. Add the M3 amplifier to complete your in-wall subwoofer system.
Subwoofers. We love what they do for movies and music but hate the way they look. Proficient has the answer: the IWS105 in-wall subwoofer. The IWS105 mounts flush like an in-wall speaker. How can we get its big 10-inch pulp-fiber woofer to fit in a 3½-inch-deep wall cavity? By moving the powerful neodymium magnet to the front.
To power the IWS105, use our M3 subwoofer amp. The M3 goes in your equipment rack and connects with in-wall speaker cable. To get tighter bass and minimize transmission of sound into other rooms, add the BB-IWS10 back box. No matter how you set it up, the IWS-10's 36 Hz response and 250-watt power handling ensure you'll get great bass. Includes Thin-Bezel Grilles held by Neo Magnets.
for Proficient IWS105 In Wall Subwoofer - Open Box Special Offer

for: Proficient IWS105 In Wall Subwoofer - Open Box Special Offer