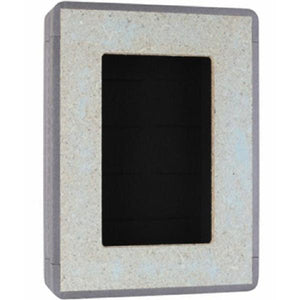 The WCBOX-L (large) allows you to install in-wall speakers into brick or concrete walls. It is lightweight and robust and offers excellent shock absorption features.
With front and rear Fermacell boards, the Monitor Audio WCBOX-L will seamlessly integrate into your project and enable a quick and easy installation. The body material is framed by EPS to achieve low resonances and improved sound insulation features.
The WCBOX-L is lightweight and at the same time offers a robust stability with excellent shock absorption features.
Front and rear boards are made of 15mm Fermacell.
Fix cut-outs allow for best possible handling of electronic ductwork (20 mm + 25 mm). 
Better insulation with airborne- and structure-borne noise compared to conventional in-wall systems. 
Adapters and installation components are provided so that all conventional speaker systems can be integrated easily and quickly.
for Monitor Audio WCBOX-L In Wall Speaker Enclosure

for: Monitor Audio WCBOX-L In Wall Speaker Enclosure
---