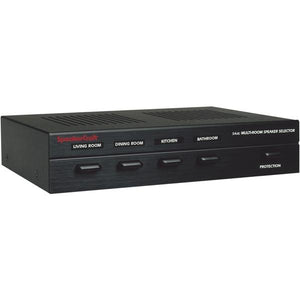 Enjoying music throughout the home is easy with SpeakerCraft's Multi-Room Audio SelectorsThese selectors make it safe and possible to connect up to eight pairs of speakers to any receiver or amplifier.
These audiophile highpowered selectors are sonically neutral.
Once installed you can turn the music on or off in any area of your home with the push of a button. Selecting the right area is simple with the customized labels you can place over each selection button.
SpeakerCraft's award winning design and engineering team has incorporated many unique features into the design of each speaker selector: InstaLLock Connector Plugs, Suction Feet, Rear Protection Override, and Customized Room Labels.
for SpeakerCraft S4DC Speaker Switchbox (4 Pairs)

for: SpeakerCraft S4DC Speaker Switchbox (4 Pairs)
---