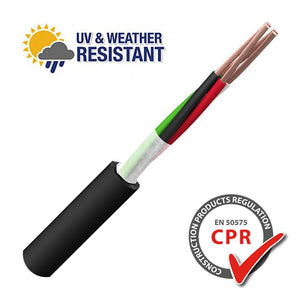 High-performance TruSound OFC speaker cables combine flexibility at optimum performance levels through highly stranded OFC (oxygen free copper) conductors.

This 4 core 16AWG speaker cable features a water blocking tape that is vital in the first few minutes of preventing water from travelling down the cable and damaging equipment. The water blocking tape reacts quickly when in contact with water, swelling and creating an absorbent type gel. This cable also has a UV resistant PE outer sheath, making it ideal for external applications where the cable may need to be run outdoors. The quick strip makes for an easy installation.
Features:
Water blocking tape
OFC (oxygen free copper) conductors
Easy strip jacket, free from talcum
UV resistant PE sheath
This cable is supplied on 50m, 100m and 150m drums. Please allow additional delivery time for special order cables.
PLEASE NOTE ALL SPEAKER CABLES ARE SUPPLIED WITHOUT BANANA PLUGS
Construction
Conductor Material: 99.999% Oxygen Free Bare Copper
Number of Strands: 41/0.2mm
Insulation Material: Polyvinylchloride (PVC)
Number of Cores: 4
Overall Tape: Water Blocking Fleece
Sheath Material: Polyethylene (PE)
Sheath Colour: Black
Core Identification: Red, Black, Green, White


Electrical Characteristics
Nominal Conductor Resistance: < 13.7 Ω/km
Insulation Resistance: > 200 MΩ.M
Voltage Rating: 450/750V Applies to CE marked FSC/Tru branded stock only
Test Voltage: 2.5kV for 5 Minutes


Physical Characteristics
Overall Diameter: 7.4 ± 0.2mm
Min. Bend Radius: 10 x OD
Temperature Rating: 0°C to +70°C
Weight: 61 kg/km


Standards
RoHS3 Compliant: Yes
UV & Weather Resistant: ISO 4892-3
CE Compliant: LVD (2014/35/EU), CPR (305/2011)
CPR Classification: Fca (EN50575:2014+A1:2016)
for TruSound Weatherproof Speaker Cable 16/4 UV PE 4-Core (Black)

for: TruSound Weatherproof Speaker Cable 16/4 UV PE 4-Core (Black)
---