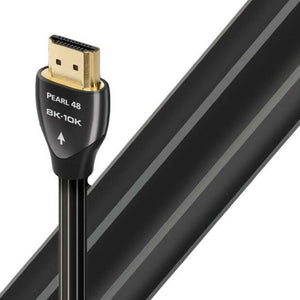 Sound first. While 8K and other compelling video/gaming features make the HDMI headlines, AudioQuest's 48 and eARC-Priority Series HDMI cables are our best-sounding HDMI cables yet.
The greater precision and tighter manufacturing tolerances required to deliver HDMI cables that transfer up to 48Gbps bandwidth mean all of AudioQuest's tried-and-true ingredients and techniques matter every bit as much as ever before.
Pearl 48 features high-purity Long-Grain Copper conductors that have been direction-controlled for the most efficient dissipation of radio-frequency noise.
Features:
Solid Long-Grain Copper Conductors
Level 1 Noise Disippation - Direction Controlled
Long-Grain Copper eARC Conductors
All 19 conductors are Direction-Controlled (A/V, eARC, Ground-Reference Drains, Control, Power)
All 48G cables up to 5m have the bandwidth required for video with resolutions up to 10k, including 9K/60Hz and 4K/120Hz
48G
AudioQuest "48" HDMI cables can transfer up to professional 10K Ultra-HD video. The 48Gbps bandwidth is made possible by 4 balanced audio/video pairs capable of 12Gbps each. The precision and tighter manufacturing tolerances required to produce HDMI cables that transfer up to 48Gbps bandwidth mean many of AudioQuest's tried-and-true ingredients and techniques are more important than ever before.
8K/10K
AudioQuest 48Gbps HDMI cables have the bandwidth required for video with resolutions up to 10K and resolutions/refresh rates up to 8K/60 and 4K/120. All AudioQuest HDMI cables are completely backwards compatible with existing 4K displays.
LONG-GRAIN COPPER CONDUCTORS (HDMI)
In AudioQuest HDMI cables, Solid Long-Grain Copper, Silver-Plated Copper, or Perfect-Surface Silver conductors improve Noise-Dissipation and overall performance. Pearl 48 uses Long-Grain Copper for its conductors.
LEVEL 1 NOISE DISSIPATION: DIRECTION-CONTROLLED
This is the foundation of AudioQuest's Noise-Dissipation technologies. Traditional "100% shielding" is not enough to guard against the increasingly prevalent effects of Wi-Fi, cellular, and satellite radiation. In AudioQuest HDMI cables, all 19 conductors are Direction-Controlled to minimize the RF Noise that damages performance by "directing" or draining it away from the most vulnerable circuits. Additional Noise-Dissipation techniques (Levels 2 and up) are applied as budget permits to further reduce noise.
eARC: LGC + Level-1 Noise Dissipation
Because sound matters, the eARC conductors in AudioQuest's 48-Series HDMI cables receive equal love and affection, featuring the same superior metals, Direction-Controlled Conductors, and Noise-Dissipation technologies as the main AV data pairs. In AudioQuest eARC-Priority cables, the main A/V data pairs have Cinnamon-level performance (Forest 48's solid 0.5% Silver + Carbon & Vodka 48's Level-3 Noise-Dissipation), while the eARC data pair and Ground-Reference drain use all the same advanced design ingredients as their "48" counterparts. HDMI's Audio Return Channel (ARC) sends audio from a TV to a soundbar or AV receiver for greater simplicity and flexibility in system setup. Hardware's previous ARC capabilities max out at lossy (compressed) 5.1-channel surround sound. Today's HDMI 2.1 hardware supports enhanced Audio Return Channel (eARC), which increases the digital bandwidth dramatically to support uncompressed and lossless high-resolution multichannel audio, including Dolby TrueHD and Atmos, and DTS-HD Master Audio and DTS: X.
LIMITED LIFETIME WARRANTY
AudioQuest HDMI cables are manufactured to exacting standards and are subject to rigorous quality control. However, if your HDMI cable has a real manufacturing defect, AudioQuest's non-transferable original-owner limited lifetime warranty has you covered for cable purchased through an authorized AudioQuest US dealer. At its option, AudioQuest will repair or replace any defective HDMI cable that has not been abused, for the lifetime of the product. Proof of original purchase is required. This warranty is not an upgrade program for AudioQuest HDMI cables that were designed to meet previous generations of HDMI specifications. Current AudioQuest models are designed to meet HDMI 2.0 (18Gbps) or HDMI 2.1 (48Gbps). All generations of HDMI cable will provide some, but not all, of the features made possible by HDMI 2.0 and 2.1. All generations of HDMI cable are backwards compatible – they provide all the capabilities of previous generations. To experience the audio/video benefits made possible by the latest HDMI 2.1 hardware, an HDMI cable must meet HDMI specifications, specifically an FRL-enabled bandwidth of 48Gbps. Whether using HDMI-enabled gear with Standard Speed, High Speed (10.2Gbps), 18Gbps, or Ultra High Speed (48Gbps), AudioQuest's HDMI "48" Series provide superior sound and a superior experience vs. even AudioQuest 18Gbps cables. This warranty is valid in the United States only. For warranty policies in other countries, please contact your local dealer or distributor.
Bandwidth: 48Gbps - supports up to 10K resolutions
A/V Conductor: Solid Long-Grain Copper
eARC Conductor: Solid Long-Grain Copper
Ground Reference: Tinned Copper
Noise-Dissipation: All 19 Conductors Direction-Controlled
Jacket: CMG (CL3/FT4)

for AudioQuest Pearl 48 8K/10K 48Gbps HDMI Cable 1m-5m

for: AudioQuest Pearl 48 8K/10K 48Gbps HDMI Cable 1m-5m
---