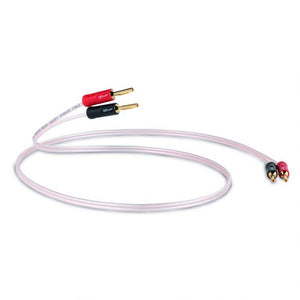 As its name suggests, this was the first cable to benefit from the Genesis research and has won continued international acclaim. Its exceptional musical qualities are no accident.
Perfect for long runs and multi-room installations
With 99.999% oxygen-free copper cable at its core, purity is very much at the heart of this cable. QED expertise adds an optimised geometry for low leakage and a high performance, low-density polyethylene insulation. What this means is that, thanks to its low impedance, the cable can be run for long lengths without significant loss of quality. This characteristic also makes QED Original ideal for multi-room installations.

A quality speaker cable for all your AV requirements.
*PLEASE NOTE ALL SPEAKER CABLES ARE SUPPLIED WITHOUT BANANA PLUGS.
for QED Performance Original Speaker Cable (Per Metre)

for: QED Performance Original Speaker Cable (Per Metre)
---