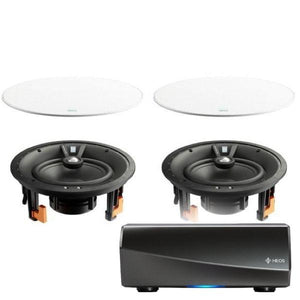 This is a package consisting of a Denon HEOS Amp HS2 and 4 x Dali Phantom E-60 Speakers.
In our opinion, this package is ideal for medium sized rooms and will provide good quality audio.
Denon HEOS Amp HS2
The HEOS Amp is designed to add HEOS multi-room audio functionality to any pair of stereo speakers, and features the same wireless ease of use as the whole HEOS range. Featuring advanced Class D digital amplification in a sleek compact chassis, the HEOS Amp delivers 100 watts of power per channel with low distortion and high current capability. 
All HEOS (by Denon) music systems connect together by dual-band Wi-Fi, making them easy to set up with your existing home network. Should your signal be weak in a certain part of your home, then the HEOS Extend can be used to boost the signal quality. Up to 32 HEOS units can be set up at one time, ensuring even the largest of homes are covered for multi-room music. Should you prefer to stick with a wired connection, then you can make use of the Ethernet socket that's standard on all HEOS speaker systems.
Dali Phantom E60 In Ceiling Speakers
The DALI PHANTOM E60 is designed for optimum in-ceiling use, but will also work if mounted in-wall. The compact sized construction and the easy-to-use compass positioning system makes placing the speaker for the optimum sound experience very straight forward. Two discreet switches offer audio adjustment options to ensure that the listener gets the most from the speakers, even in rooms that traditionally are difficult.
The tilted bass driver and the slightly off centre soft dome tweeter blends gracefully and produces a richly detailed and crisp soundstage. The polypropylene cone is more resilient towards humidity than the traditional DALI cone material – wood fibre, making the PHANTOM E60 flexible in regards to placements in covered outdoor areas and bathrooms.
for Denon HEOS Amp HS2 & 4 x Dali Phantom E-60 In Ceiling Speakers

for: Denon HEOS Amp HS2 & 4 x Dali Phantom E-60 In Ceiling Speakers
---